Custom Made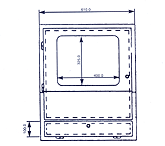 Some clients, particularly OEM`s, System Integrators and Resellers looking to customise may require modifications to the standard Comcover and or Comcase.
For example:

Special paint colours
Own brand labelling
Alterations to dimensions.
These modifications can be undertaken by Dymatec and sometimes at no extra cost.
Tailor Made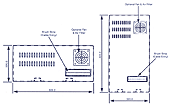 You may require something more substantial than minor modifications, if so Dymatec can help. Typically it would be a man-machine interface or control panel. To set the product apart from other industrial PC off the shelf items it needs to look like your own product.
Dymatec will:

Design a unit which is unique to your company
Produce a prototype
Produce CAD drawings
Bear the cost of tooling and programming.
An enclosure or panel is not necessarily expensive. In some cases it may be less cost than a standard item.
If you would like to know more about the outlay and conceivable designs please complete the contact us or call 07398 484 509.