Industrial computer protection - both in terms of harsh envirnoments and security - are the main focus of our Comcover cabinet. Utilising our broad industrial experience Dymatec have designed and produced the Comcover cabinet to protect IT equipment. The robust unit will house PC base unit, monitor, keyboard, mouse and other peripheral equipment. The Comcover is also available with a "Touch Screen"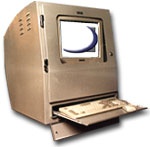 The Comcover provides you with peace of mind knowing that delicate computer equipment is shielded from unsuitable industrial environments. It has been designed to suit metal industries, food factories, assembly plants, chemical and process sites, public access, warehousing and many other manufacturing sectors.
A cost effective alternative to industrial computers it comes completely assembled ready for use in minutes.

Comcover is the solution to dust, splashes, impact and tampering with stylish good looks to compliment your IT investment.
For more information contact us by clicking here or call 07398 484 509.